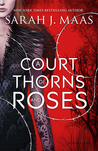 A Court of Thorns and Roses by Sarah J. Maas
My rating: 3 of 5 stars
So. A few hundred exams and some Starbursts later, I'm finally reviewing the most anticipated YA/NA novel of the year. I even preordered it and everything.
And boy was it a disappointment. 
When the story starts, our all round blockbuster heroine Feyre is out hunting for her thankless family. This retelling of Beauty and the Beast has everyone, including the usually cuddly dad, be the stepmother from Cinderella. I was quite on board with the story here, genuinely annoyed for Feyre and so on. But even after Feyre gets taken away by the glorious beastie from Disneyland, I kept waiting for the story to start. And this is my first complaint:
1. THE PLOT IS ON HOLIDAY.
That or it's staycationing. I felt like there was a lazy attempt to have things happen, either in terms of character development or actual events, but if you think back on it, nothing does. Feyre gets over her fae-fear really fast, and until the the trials in the laaaaaaaaaaast third of the book, it's essentially just one giant worldbuilding exercise. We learn about the Fae very, very slowly. It's sort of labouring along until it gets to the interesting part.
It is also extremely cliched. So cliched and saccharine that my teeth were screaming for mercy. Even the Hunger Games type quest thing, which I really loved by the way, was destroyed by the wuv twoo wuv ending.
SPOILER : Please tell me the answer to that silly riddle was immediately obvious. Come on, Sarah J. Maas, give your readers some credit. That whole ending made me want to throw up.
2. THE ROMANCE IS BOOOORING.
I. for one, did not feel a drop of chemistry between Feyre and whathisname Tamlin. I found them utterly lifeless together. There was more chemistry with Lucien; in fact, I thought he was the hero for a while, what with the scars and all, until I read the blurb and realised, sadly, it was Tamlin after all. And that brings me to the other major bone I have to pick:
3. THE BEAST ISN'T BEASTLY ENOUGH.
There is nothing beast-like about Tamlin at all. Nada. Nil. Zip. The book tries to make it seem so with his ability to transform into an animal, but I don't count this as a beast-like characteristic. (That would make every paranormal romance with a werewolf into a B&B retelling, which no one thinks they are.) If you remember, the moral of the original story was to look past a person's physical features and love them for what they are inside. Possibly it is also saying that emotions/love makes us human.
Anyway. The point here is that there is nothing to overcome when falling in love with Tamlin. His personality is bland and he looks great.In fact, you could say Feyre's desire to know what Tamlin looks like under the mask is quite the opposite of the original intent.
Are you seriously telling me it is a hardship to fall in love with someone who looks like this?
So that kinda ruined the book for me.
There are only two reasons this book did not sink into a bog never to be seen again.
The first is called His-Royal-Hotness-Whose-Smile-Shreds-Women's-Clothes aka Rhysand. Dear god, this would have been such a good book if he were the hero. It's a little sad that I support Rhysand's questionable actions over Tamlin's generic goodness. He is just delicious and the only reason I am even thinking about the reading the next book is because Sarah J.Maas wrote in a plot hook at the end with him in it.
The closest thing I can compare to Rhys is Kyohei from the Midnight Secretary manga, for sheer presence.
The second is the aforementioned three trials/tasks that Feyre is put through by the height of all things evil, the faery queen. She is a major badass in the first one. She is not so badass in the second. She is a relatable heroine by the third and it was this part of the book that really made me get behind her. She not only completes three nigh impossible tasks, she does under it overwhelming pressure, subject to intense humiliation and torture, just for love. That, my friends, is a good story.
But three cool incidents and torture maketh not a 4 star book, so here we are, with a middling book that could have been so much more but was Hollywoodized to death.
C'est la vie.